If you want to examine the material in a particular Market, select a market segment using the Market button above. Select Markets to return to Markets page. Other links will take you to other destinations.
Who are we?
Basalt Technology (Pty) Ltd is an importer, and re-seller of basalt fibre products. The company is an affiliate of Pan Mixers South Africa, a well known company in concrete plant manufacturing and sales. Basalt Technology has an in-depth knowledge of StoneRod basalt fibre materials, and is aware of the areas where the StoneRod basalt products can best serve you.
The product
StoneRod fibre is a relatively new addition to the fibre industry. Although the technique for manufacturing continuous basalt fibre materials was patented almost a century ago, its availability in the open market is a fairly recent development. A look at the "Products" list, on this website, will indicate the wide range of industries that can be served.
The initial, military development of basalt fibre products was a closely guarded secret, during the time of the Cold War. At this time, the Soviet Union, took the technology, improved on the production methods for the fibre, and used in in their weaponry, and aeronautical fields. The material was used by the Russian Military Forces for insulation, heat proofing, sound proofing, and bulletproofing.
The people
The Directors of Basalt Technology (Pty) Ltd, are people that have had years of experience in the construction industry. Pan Mixers South Africa, the senior partner, is situated in Jet Park, Gauteng, South Africa. There are branch offices and operations in Cape Town, Western Province, and Durban, Kwazulu Natal. The registered office of Basalt Technology (Pty) Ltd., is based at the Pan Mixers head office and manufacturing plant facility. All adminsistrative functions, and warehousing are centred in the Jet Park facility.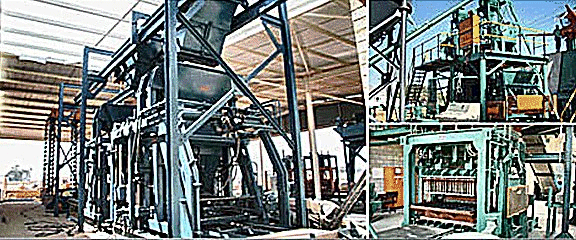 Pan Mixers are the largest manufacturer of concrete brick, and block making plants, in South Africa. Their range covers pan mixers, weighing and batching equipment, star feeders, gantries, screw conveyors, small to very large concrete paver and brick producing equipment, concrete pumps, handling equipment, stackers, automated block and paver factories, and a host of other plant related requirements. They have a range of other equipment including concrete floor polishing machines and the excellent self loading "Fiori" concrete mixers. More details can be obtained by visiting the http://www.pmsa.com website.
We pride ourselves on our professional service, market knowlege, quality, and most competitive prices.
Return to Top of Page.